Beezie Madden: "Equestrian Stable Management is more than an office job!"
Her collection of international medals is enormous. And even though Elizabeth "Beezie" Madden now only takes part in tournaments in small doses, the 59-year-old's everyday life still revolves around her great passion, horses. We talked to the US-American about the work on her farm in Cazenovia in the state of New York and found out why it is so important for her to pass on her wealth of experience in the "Equestrian Stable Management" certification program, which is offered as part of the CHIO Aachen CAMPUS.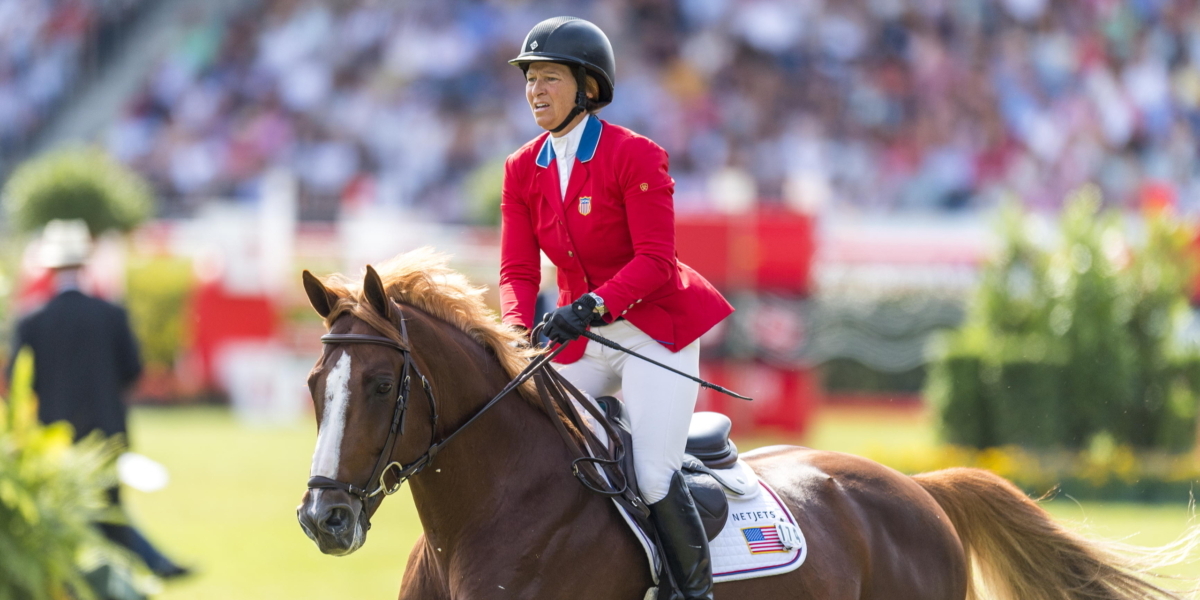 How have equestrian businesses and in particular large competition yards changed over the course of time?
I think that peoples stables have become more and more focused on mostly competition horses. It seems that riders are busier and busier competing now, and their stables are set up to be able to keep the competition horses fit and ready to go when they need them.  While it's good that they specialize in competing, they have gotten away from raising and developing young horses. Luckily there are other stables that specialize in dealing with young horses. Most stables have become more specialized than they were in the past.
Have you also noticed that on your farm?
On our farm, we still have a variety of focuses. We still have a group of competition horses, but we also have a few young horses developing, some horses being rehabbed from injury, a brood mare or two, and quite a few retired horses. Counting all the horses, we have about 90 horses on our 369 acre farm. So we have a lot of different departments that get together. Each individual horse is different, each has its own needs. Whereby I couldn't imagine a nicer profession than working with my horses, schooling them and watching how they develop. My husband and I live and convey the so-called "Madden Method". It is about looking after the horse day for day and putting its welfare first.
Why is a certificate course like the "Equestrian Stable Management" so important?
Because young people are given the unique opportunity to gain an insight into an equestrian business and collect valuable experience. They can get to know all areas of "Equestrian Stable Management" here and further educate themselves – whether as a junior or advanced professional. I find it good the way the academic side is brought together with the real world, so that the participants can get to know this area from different perspectives.
What awaits the participants at your establishment?
On our spacious farm they will learn everything that is important for managing a big yard. I think one finds out very quickly at ours that we place a great deal of importance on the horsemanship aspect. The welfare of the horses is top priority at ours! Equestrian Stable Management is not purely an office job, it entails many different tasks that require the direct contact with the horses. We keep our eye on each single horse so that at the end of the day we can say exactly what the horse has done, how it is feeling and what it needs.
What is your own motivation to become a partner of the certificate program?
While I may not be competing as heavily as before, I still love the jumping sport. My parents already had jumping horses. I have been running the "John Madden Stables" in Cazenovia in the Federal State of New York together with my husband, John Madden, since the 1980s – our horse paradise. I simply enjoy passing on my knowledge and my experience to young, motivated people. Also on behalf of the horses – because they also profit from a stable being run professionally and responsibly. Good stable management is good for the horses too.
How important is the team principle?
The team principle is very important. At our stable, we have some people mainly responsible for the show horses, some people mainly in charge of the young horses, rehab horses, and retired horses, and some people mainly in charge of the maintenance on the farm. The key word is "mainly" because all the departments overlap, so they all need to know each-other's responsibilities and be able to work together and fill in for each-other at times. The words "that's not my job" don't work around our farm. At the same time, we make sure that everyone has a fair amount of work and expect that they can take the time to do it well.
Which skills should the participants bring with them?
Madden: things, but it's not like the classroom where we tell them what we are teaching them. A lot can be learned by opening their eyes to what's going on around them and by diving in to be a part of the happenings at the farm.